Athena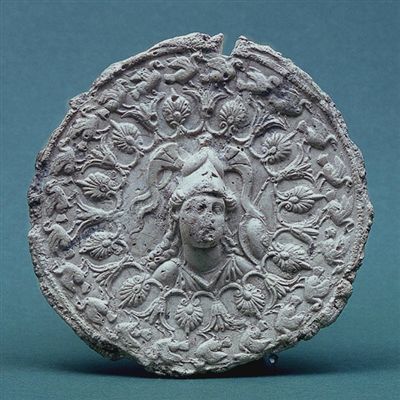 This is a plaster cast of a tondo originally made of metal. It represents the head of Athena set in the middle of a double circular frieze composed of palm leaves with lotus flowers and ducks respectively. Athena wears the chiton without an aegis, and on her head is the Corinthian helmet topped by three plumes set in simple holes. From beneath the helmet, locks of her combed-back hair appear, and two long tresses fall onto each of her shoulders. Above her left shoulder are depictions of a shield and a sword. The shield carries a depiction of the gorgoneion surrounded by a faded circle of leaves or wicker. The details of the hair and the plumes on the helmet are finely engraved. The frieze surrounding the head is of a severe style. The stems of the lotus flowers are curved into spirals onto which the palm leaves are set. The outer frieze is composed of ducks facing right, with the ducks being grouped in pairs and set on the lotus flowers. The border of the tondo is formed by a row of pearls.
Present location

PELIZAEUS-MUSEUM [04/030] HILDESHEIM

Inventory number

1109

Dating

PTOLEMAIC PERIOD

Archaeological Site

MIT RAHINA/MEMPHIS

Category

PLATE ?

Material

PLASTER

Technique

CASTING

Diameter

14,9 cm
Bibliography
Rubensohn, O., Hellenistisches Silbergerät in antiken Gipsabgüssen, Berlin 1911, S. 13-15 (Nr. 1), Tf. 1.
Roeder, G., Die Denkmäler des Pelizaeus-Museums zu Hildesheim, Hildesheim 1921, S. 140.
Buhl, M.-L., The Late Egyptian Anthropoid Stone Sarcophagi (Nationalmuseets Skrifter: Arkæologisk-Historisk Række 6), Kobenhavn 1959, S. 158.
Kayser, H., Die ägyptischen Altertümer im Roemer-Pelizaeus-Museum in Hildesheim, Hildesheim 1973, S. 141, Abb. 117.
Götter und Pharaonen, Hildesheim 1979, Kat.-Nr. 197A.
Reinsberg, C., Studien zur hellenistischen Toreutik : Die antiken Gipsabgüsse aus Memphis (Hildesheimer Ägyptologische Beiträge 9), Hildesheim 1980, Kat.-Nr. 26, Abb. 36.
Maehler, H., Poésie alexandrine et art hellénistique à Memphis, in: Chronique d'Égypte 63, Fasc. 125, Bruxelles 1988, S. 113-136 (S. 131, Anm. 7).