Hildesheim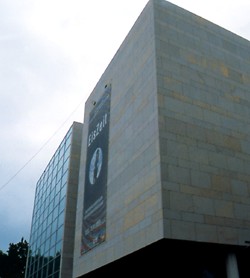 The Roemer-Pelizaeus Museum

Hildesheim, Germany



The Pelizaeus Museum holds the distinctive Egyptian collection of the Roemer and Pelizaeus Museum in Hildesheim, Germany. Firmly established for over 80 years, the museum's connection with Egyptian history actually began more than a century ago.


In 1844, Herman Roemer (1816-1894), together with a number of citizens of Hildesheim, formed an association with the aim of establishing a museum of natural and ethnological history for their city. His subsequent travel throughout Egypt in 1870 aroused a deep interest in the art of ancient Egypt. But it was not until he met Wilhelm Pelizaeus (1851-1930), a native of Hildesheim living in Egypt, that Roemer first conceived the idea of an Egyptian room.


In 1885, Wilhelm Pelizaeus acquired a mummy complete with mummy mask and coffin which he sent home to the museum in Hildesheim. Following this initial gift, a series of commissions from Roemer led to additional acquisitions for the museum. Pelizaeus himself, a prosperous businessman, was an avid collector of Egyptian antiquities. Through his acquaintance with leading academics at the beginning of the century, Pelizaeus financed the excavations of the western cemetery at the base of the Great Pyramid at Giza. Liberal Egyptian Antique Laws allowed any findings to be shared, so that Pelizaeus was in a position to secure valuable items for his private collection.


Most of the objects he collected during this time were from the Old Kingdom, but since his aim was to testify to the long span of Egyptian history, he collected important objects spanning the Predynastic to Greco-Roman Periods as well.


By 1907, his collection had become so extensive that he began to consider plans for its future use. With characteristic generosity, he donated his collection to the town of Hildesheim for the Roemer Museum. The nucleus collection continued to grow and became so extensive that it was possible for the Roemer Museum to establish a museum dedicated exclusively to the art of ancient Egypt. It was officially dedicated to the public in 1911 as the Pelizaeus Museum.


Today, the Egyptian collection of the Pelizaeus Museum numbers more than 9,000 objects spanning nearly 6,000 years of Egyptian history, making this exceptional collection one of the world's most outstanding collections of ancient Egyptian art and culture outside of Egypt.

Objects:
PELIZAEUS-MUSEUM [04/030]