Stela of Harmachis (Hormakhet)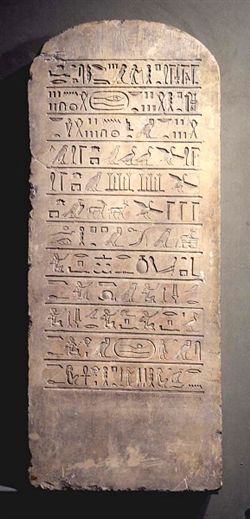 This round-topped stela with an empty upper field and a twelve-line inscription in careful hieroglyphic script was made for Hor-em-akhet, the "Chief Overseer of Craftsmen" and "Prophet" of the deified kings Ptolemy III, IV, and V. The text contains the titles of the man in an often heavily overstated manner or in flowery language. The individual signs have been spaced widely in an archaising manner and they have been executed with much care and rich interior detail in an attempt to copy examples from earlier times. Following the last line, an inscription in Demotic records the name and principal titles of the stela's owner, his father, grandfather, and mother. The purpose of the stela is unclear. It is not an ordinary mortuary inscription because the customary mention of the years of birth and death are missing, as are any wishes concerning the hereafter. We may assume that this stela was erected in association with other tomb stelae of the same man, so that the combination would provide the purpose of the text.
Present location

KUNSTHISTORISCHES MUSEUM [09/001] VIENNA

Inventory number

125

Dating

PTOLEMY V EPIPHANES

Archaeological Site

UNKNOWN

Category

STELA

Material

LIMESTONE

Technique

HEWN; CARVED; ENGRAVED

Height

88.3 cm

Width

36.5 cm

Depth

7 cm
Bibliography
Verzeichnis der antiken Sculpturenwerke, Inschriften und Mosaiken des K.k. Münz- und Antikencabinets im unteren K.k. Belvedere (1826) 24, Nr. 7.
Satzinger, H., Das Kunsthistorische Museum in Wien. Die Ägyptisch-Orientalische Sammlung. Zaberns Bildbände zur Archäologie 14. Mainz. 1994.
Katalog "Osiris, Kreuz und Halbmond", Stuttgart (1984), 161, Nr. 134.